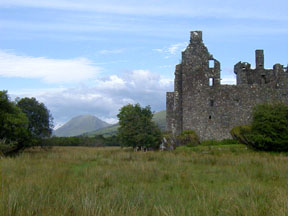 Back at work today, deleting porno-spam and viagra ads from my email. I had over 400 of the damn things - can't these parasites find normal jobs?? How the hey do they explain to their parents what they do for a living?? "Yeah, mom, spam...no, not the meat stuff in a can - I send links to people's email boxes. No, not sausage...computer links, for barnyard-rape sites, free blowjobs, and teenage hookers...No, I will not wash my own mouth out with soap." Somewhere in all that mess were a few actual work-related messages. Which I also deleted. I mean, WTF, what am I, your secretary? Use the little brains God gave you and try fixing your own damn problems, you idiots. You'll be expecting me to wipe your asses next.


Speaking of idiots, the Toxic Tinhorn's answer on how to reduce the danger of wildfires shouldn't suprise anyone. It mirrors what looks to be his strategery for fightin' terra: by ripping up the Constitution and Bill of Rights and running this country like a police state, the evildoers - who "hate us for our freedoms" - will have no reason to "attack" us anymore. Unless we invade a sovereign country for no other reason than it made daddy look like a pussy.


Fun facts from my trip to Scotland:
Their national dish, haggis, was actually quite delicious. I ordered it every chance I got. So I'm pretty bummed right now - I was looking at websites, hoping to order some, when I saw this warning: "The US government has determined that sheep lungs are unfit for human consumption. It is therefore illegal to import most haggisses into the U.S." Son of a bitch!
I don't know who their first choice was to play William Wallace, but it wasn't Mel Gibson.
The country is facing a major problem with grey squirrels, which were introduced as pets and then escaped. I saw maybe three of them. Little buggers are so tame they run up to you looking for handouts.
The duty-free shop in Glasgow sucks, even though they did have a scotch-tasting.
A true Scot will get pretty damn offended if you jokingly call the 'Rabbie Burns' pub in Edinburgh the 'Rabbi Burns, home of kosher haggis.'
Several of the ladies' rooms I visited had machines stocked with "MacCondoms."