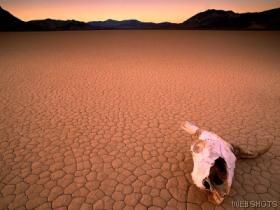 I didn't sleep well last night. I lay awake listening in vain for the rain that was forecast to start, but nooooooooooo. I'm very worried about our well. We're in a serious drought here, but since we're not in a farm/ranch belt, we will not be listed as a disaster area. For the first time since I was a schoolkid, I'm praying for a miserable winter!



GET THE F*CK AWAY FROM ME, I HAVE A HEADACHE
Headlines from Yahoo news this morning:

Ecstasy-Viagra Mix Alarms Doctors
That idea isn't doing great things for me, either.

Bunnypants Opens Week of Heavy GOP Fundraising
Glad to see he's got time to waste. Have we dropped below alert level Yellow? Here we go again.
The Clueless Cowpie's visit to Trenton, NJ, today is the opening event of an especially heavy week of fund raising for Poppy's Widdle Poophead, who has blazed new records by garnering nearly $116 million for GOP candidates this year, even though we're "at war" and the economy is in the crapper. Reznit Dumbass, showing no signs of a slowdown six weeks before the November election, scheduled four fund-raisers in three states, in effect saying f*ck the economy, I've got mine, and I want more.

On Thursday he'll be in Houston for his second money-raising event this year for John Cornyn, the GOP Senate nominee in Texas.

On Friday, he'll knock 'em dead with his Trifecta joke in Denver, fundraising for Bob Beauprez, a House candidate. Later that day he plans to raise money in Phoenix for Arizona gubernatorial candidate Matt Salmon.

Then it's the weekend! Oh boy!

In a related story, the stock markets around the world tanked today, with the Nasdaq hitting its lowest level since 1996.

Speculation of a possible second Gulf War added to Wall Street's worries and triggered a spike in oil prices, while Napoleon Bonehead reviewed military options for a possible attack on the oil-rich nation.

Feds Seek to Overturn Suicide Law

The federal government resumed its bid to ban Oregon doctors from helping terminally ill patients commit suicide, filing papers today with an appeals court in an effort to strike down the only such law in the nation.

Jesus John 'Crisco' Ashcroft is seeking to sanction and perhaps hold Oregon doctors criminally liable if they prescribe lethal doses of medication, as the voter-approved Death With Dignity Act allows. Gee, maybe if they used anthrax it would be OK with him.