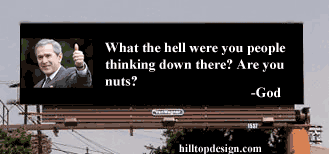 Hope everyone had a nice Thanksgiving! I don't know about you, but there never seems to be enough leftover turkey.


Jeffords Blasts Bush on Environment
The chairman of the Senate environment panel criticized The Yellow Puddle of Texas today for moving backward on the environment, saying he is putting GOP donors and pals of the Cheney/BFEE Oil Cartel special interests above clean air, clean water and public health.

Vermont independent Sen. Jim Jeffords, who will give up the gavel of the Senate Environment and Public Works Committee when Republicans take over the Senate in January, said Bush is rolling back protections for clean air and water, cutting Superfund site cleanups and clearing new oil and gas drilling on national lands.

Jeffords said the environment had not always been a partisan issue, and he noted that he had worked with Bush's father, the former and slightly-smarter President George Bush, to toughen clean air legislation. - link.