Makin' progress
Over Memorial Day, Vice President Dick "dick" Cheney said the Iraqi insurgency was in its "last throes." Let's see...


Attacks on Iraqi forces kill 33 in Mosul


US Apache helicopter down in Iraq


Rumsfeld: Last throes of Iraq insurgency could last 12 years -

or until they run out of Bushes to occupy the White House.




Republican Senator Chuck Hagel tells American Legion US is losing the war in Iraq. It "could be worse than Vietnam."


"The Iraq insurgency poses an international threat and may produce better-trained Islamic terrorists than the 1980s Afghanistan war that gave rise to Osama bin Laden and al Qaeda."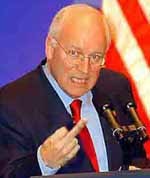 ***