THE DECLINE OF CIVILIZATION
NILES, Ohio (AP) - Fans who go to the Mahoning Valley Scrappers minor-league baseball game on Wednesday should ditch the glove and take a toupee. The Class-A affiliate of the Cleveland Indians has made August 14 "Jim Traficant Night," and hairpiece wearers and sons of truck drivers get in free. The disgraced DINO rep, serving an eight-year prison sentence for bribery and racketeering, often calls himself "the son of a truck driver."

The baseball event also features a Traficant impersonator, Traficant trading cards and a mock election. - Yahoo News.







EMPEROR SNIPPY TO WORLD: WHO CARES WHAT YOU THINK?
'And quit buggin' me when I'm on my month-long vacation, dammit!'

When the United States' delegation heads to the Johannesburg Earth Summit this month the Toxic Tinhorn will still be hitting golf balls while on his month-long vacation at his bogus ranch, Compound W.

The U.S. delegation faces international anger over Bunnypants' rejection of the Kyoto treaty to combat global warming and other moves seen as isolationist and out of step with world concerns. Delegates to the August 26 - September 4 meeting will debate ways to raise living standards in the developing world without destroying what is left of the planet's resources. The US delegation has not been announced, although Secretary of State Colin Powell is planning to attend.

"If the president takes a vacation while the rest of the world works on the environment and sustainable development, it will be a pretty clear signal," of disinterest, said Kalee Kreider, global warming program director for the National Environmental Trust in Washington. "But I guess the clueless little f*cker is pretty sure he has the next election already in the bag, so what difference does it make to him?"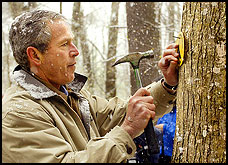 Bunnypants, defiling a majestic tree during photo-op earlier this year.